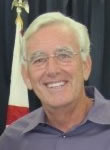 ALASTAIR GEDDES
President
Impact International, LLC
When Alastair Geddes was a teenager, he left Scotland and joined the police force in Rhodesia (Zimbabwe). He gave his life to Jesus Christ whilst still in the police in 1968. He studied at Christ For The Nations in Dallas, Texas and after graduating returned to Rhodesia (Zimbabwe) to work alongside Ezekiel Guti and his Forward in Faith movement. In 1976 Alastair planted his first church, Faith Ministries.  His unique style of relational ministry endeared him to the nationals in the country. Alastair mentored a young university student Ngwiza Mnkandla who was groomed to take the reins of the ministry in 1983. Alastair left Zimbabwe that same year and took the position of Vice President of Christ For The Nations Institute Of Biblical Studies in New York.

In 1999 Alastair realized that a new day was dawning and God was giving fresh revelation about leaving a legacy for the next generation. Alastair read in scripture how David the King died only when he had completed his assignment from God and left a legacy through his son Solomon. That was it!  Exponential change through depositing seed in the next generation. Taking the model of his earlier days with Ngwiza Alastair seeks to mentor and father the next generation and transform the church and nations through passionate young leaders in business, church, humanitarian aid and other cutting edge resources.

Ngwiza again passed the baton given to him by Alastair to his 'son', and today the growth of Faith Ministries continues even through difficult and trying times. Alastair and Ngwiza (independently directed)have taken residence in Florida where Alastair pursues the Impact vision and Ngwiza presides over the international mission ministry of DAWN International. Together Alastair and Ngwiza plan to develop Impact into a worldwide multi-faceted ministry for a world in need.