CHEERLEADING PROGRAM FOR AGES 5 TO 14
The Sapphires Cheerleading is a wonderful recreation program for new and experienced cheerleaders, ages 5 -14 years old. We take pride in focusing this program around cooperation, self confidence, respect, great friendships and all of the important foundations of cheerleading. In the past the Sapphires have supported sports teams by cheering at games and also participated in local competitions.
Our partnernership with the Portsmouth Public School Board / Lakeview Elementary School in Portsmouth, VA allowed the Sapphires to become an after-school program.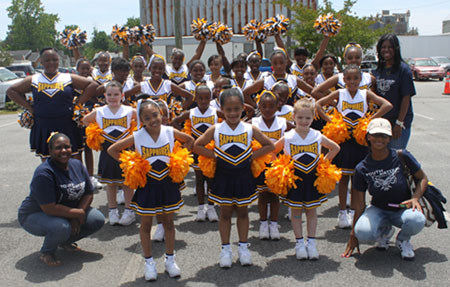 See video clip of Sapphires performance on Youth Matter Inc's Channel:
http://www.youtube.com/watch?v=BY9rv8SeEy4&feature=plcp
---
A sampling of past performances:
Portsmouth Memorial Day Parade, Portsmouth, VA
Umoja Festival, Portsmouth, VA
East End Baptist Church, Suffolk, VA at Community Block Party
V.I.S.I.O.N. Centre 1, Portsmouth, VA at Youth Rally hosted by DIVA
---
Contact us for more information and/or of your interest to volunteer with this program - looking for Assistant Program Directors and volunteers.