HOME > COMMUNITY > MLK EVENT

---
ANNUAL DR. MARTIN LUTHER KING, JR.
DAY CELEBRATION

"A Special Tribute to Yolanda King"
"PEACE" POSTAGE STAMPS DESIGN CONTEST
for Elementary School Students
In 2008, we decided to pay a Special Tribute to Yolanda Denise King (November 17, 1955 – May 15, 2007) the first-born child of Coretta Scott King and civil rights leader Dr. Martin Luther King, Jr. Her younger siblings are Martin Luther King, III, Dexter Scott King, and Rev. Dr. Bernice Albertine King.
Yolanda believed that the world would be a better place if we promoted peace, and we agree, and wanted to reach out to the youngest ones to get them to help us all promote peace through their eyes.
Elementary school students create artwork that represent "PEACE". The students will compete for awards and other gifts. Four grand prize winners will be selected, along with 2 honorable mentions. The winning artwork is then converted to picture postage stamps, usable for mailing through the US Postage System.
---
2008 "Peace" Postage Stamps presented
to The King Center, Atlanta, GA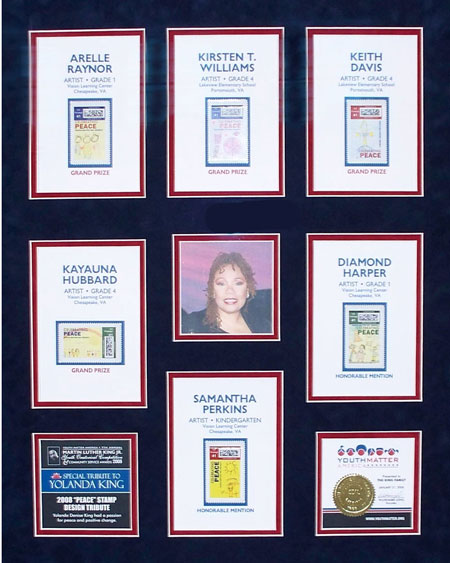 2010 POSTAGE STAMP DESIGN GRAND PRIZE WINNERS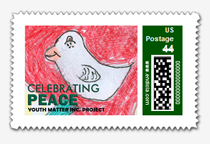 Brittany Morgan, Designer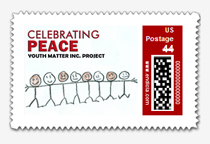 Camry Jones, Designer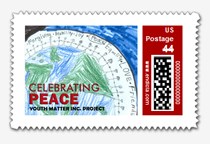 Guy Purnell, Designer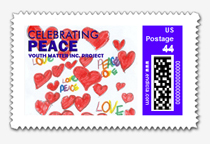 Nia Fenner, Designer